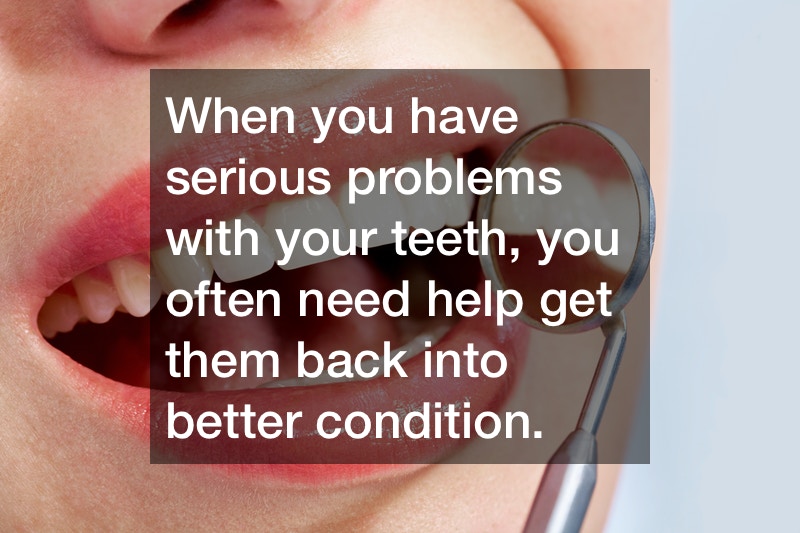 Electronic Currents Could be the Future of Cavity Repair
When you have serious problems with your teeth, you often need help get them back into better condition. You may need root canal treatments to treat teeth that are seriously damaged by decay and infection. If you have to have teeth extracted, you will also need dental permanent teeth installed through implantation. Many of these treatments are performed by dentists, but some are referred to oral surgeons. You may also need a periodontist if you need to have gums dental care.
How Can I Get Help With My Teeth?
Above all, it's important to practice proper dental hygiene so that you can have good dental health. That means brushing two to three times a day and using floss every day. There are additional treatments that can help, including using a fluoride rinse and mouthwash. All of these can be a part of a healthy routine for dental health. If you have a family history of dental problems, these preventative treatments may help. However, they may not get rid of your risk of serious dental conditions. The teeth that your parents had at your age can be a good guide for how yours are going to progress. Be sure to do what you can with preventative care just in case.
UPDATED 12/23/20
Today, when you have a cavity, the dentist will drill the decay out of your tooth, then fill it in with amalgam or composite resin. Could there ever be a point in time, though, when your tooth can essentially fix itself?
According to researchers working at King's College London, such a future is not only possible, but potentially available as a treatment option within three years. Their technology is known as Electrically Accelerated and Enhanced Remineralization, or EAER. The process speeds up the movement of phosphate and calcium into the damaged tooth.
As Professor Nigel Pitts, who works with the school's dental institute, points out, "The way we treat teeth today is not ideal. When we repair a tooth by putting in a filling, that tooth enters a cycle of drilling and refilling as, ultimately, each 'repair' fails." This innovative solution would not only be better for teeth, but it will be as cost-effective as current treatments, according to Pitts.
Considering that about 2.3 billion people are estimated to be suffering from tooth decay every year, the technology could have important implications for improving patient health. It's worth noting that people with teeth or implants live seven to 10 years longer, on average, than those who are missing teeth. Cavities begin with small defects in tooth enamel which allow minerals to seep out. The EAER treatment helps to treat cavities by preparing damaged enamel, and then using tiny, directed electronic currents to draw in the missing minerals.
Though this treatment can be used on various stages of tooth decay, it is unlikely to work for teeth that are experiencing advanced decay. "What it won't do is physically regrow a tooth," Pitts explains. Interestingly, researchers at Harvard came up with a similar technology earlier this year — they have been using laser lights to trigger teeth into creating new dentin.
Receiving all your dental services to maintain good oral health care is vital. It is said that taking good care of your mouth results in good health. Various health problems can come up as a result of failing to take care of your teeth as well as gums. Maintaining good dental health is essential as it keeps bacteria under control. Failure to receive the best oral care may lead to tooth decay and gum disease, which are oral infections. For this reason, one should consider visiting a clinic with all dental services to get the best oral care and maintain generally good health.
What makes a good clinic?
A good clinic offers all dental services. It should show the best necessary basic dental coverage charges. In short, the dental clinic you settle for should have affordable teeth care as well. Ensure that the clinic has the essential licenses. The staff should be experienced to get high-quality services. Considering that technology has brought a lot to dental health care, the clinic should have the necessary technology to better it. The mouth is a crucial part of the body; for this reason, you ought to consider a clinic that maintains high hygiene levels to avoid infections.
Like this:
tideglusib dental trials, can arrested caries remineralize, dental filling alternatives, do fillings need injections, electrically accelerated and enhanced remineralisation eaer, electrically accelerated and enhanced remineralization, end of dental fillings, fluoride enamel, new treatment reverses tooth decay, reminova dental, repair teeth without dentist, tideglusib teeth clinical trial, tooth decay treatment before and after, alternatives to novocaine shots, calcium fluoride phosphate, eaer dental treatment, natural tooth filling material, organic dental fillings, remineralize tooth enamel fillings fall out, reminova usa, tooth filling alternatives.